Sepia Tears
Sepia Tears: Reprise Edition is lauching this Fall!
---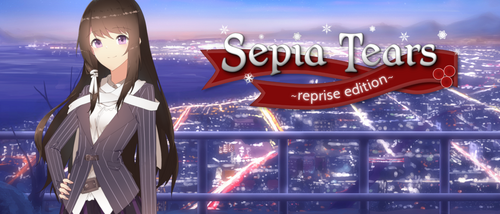 The title says it all!
Reprise Edition is finally complete, and it's scheduled to launch this Fall. Pre-order it here: https://scarletstring.itch.io/sepia-tears-reprise-edition
Or wishlist it on Steam: https://store.steampowered.com/app/867860/Sepia_Tears_Reprise_Edition/
As a reminder, this DLC includes the full original story, in addition to...
Three new chapters, bringing the story to a total of 50,000 words (original length was 40,000 words)
Four new CGs included in the bonus chapters
Remastered soundtrack (with the option to switch back to the original, if desired)
Handdrawn background art to replace the old stock photos
Lots more sound effects and atmospheric audio
Newly polished UI, scene transitions, and other visual effects
Thanks for sticking with us through this project! I personally hope you enjoy reading it as much as I enjoyed writing it.
This release will mark the end of Sepia Tears as a franchise, but stay tuned for more updates on Monospaced Lovers in late 2019/early 2020!
Files
sepiatears-1.6.zip
362 MB
Apr 18, 2019